This is an entry for Sassy Mom's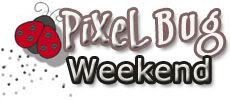 .
Also wishing her a very happy birthday! =)

It was very hot yesterday afternoon, so we thought it would be nice to visit nearby Tagaytay. We've always wanted to try Bag of Beans Bakery and Coffee shop th
ere.
While on our way to Tagaytay, rain started to flow, which turned into a heavy downpour. Oh, geez! But the heavy rains did not dampen our spirits. We
were still headed to Bag of Beans. Luck was still on our side, as the rain stopped just in time when we reached the coffee shop! Yey! =)
Bag of Beans is a small shop along Tagaytay's main highway, just past Mendez crossing. One would not easily see it, except for the many vehicles parked in front of the shop. It has a small bakeshop, and down a few flight of stairs, amidst the green gardens, is the dining area for dine-in customers. There are small cabanas
for a more private gathering. We stayed inside one of the indoor dining areas (there are also
outdoor dining areas, but since it just rained, the tables were all wet). Hubby o
rdered bottomless House Blend Coffee. I ordered Mocha Frappe. Yaya ordered a
single serving of the House Blend Coffee, too. We had Cinnamon and Raisin Bread (yummy, a must-try!) for everyone, and Blueberry Cheesecake f
or the 'little one'.



(ok, but personally, I like Starbucks' version better)


Cinnamon & Raisin Bread

(so yummy! we took home the unfinished half loaf and it was still delicious the morning after! )


(nothing special, but not that bad, either)
Though it was a rainy afternoon, we still had a nice, relaxing time in Tagaytay. :)